W
ith raising children of any size, durability and practicality are of the most important when it comes to the products you use. As every mother or mother to be knows, style may not be something readily available when the previously mentioned qualities are listed.. Here are a few of my top picks for Durable, Practicle and above all else completely versatile and stylish.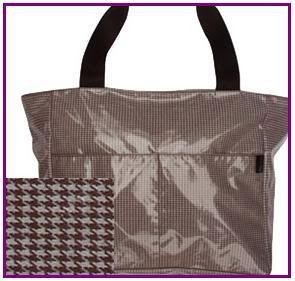 1. For a diaper bag, new shapes are all the rage... long gone are those boring zippers in ever direction quilted cotton baby bags, now it's all about fashionable prints, nylon coating and a variable of shapes made for comfort by the handler. I found that at
www.Chesterstyle.com
, a fabulous nylon/waterproof tote in houndstooth print including a total of 8 pockets inside and out, a velcro changing mat and cosmetic bag, the modern mothers' dream in all inclusive, self sufficiant diaper "totes". A whopping 18"x11.5x6"
2. Children love entertainment and simplicity and two products available at
http://www.shoptillia.com/
that inspired both of those are the Head to toe foamy wash, a great way to keep the little one clean and minimize the steps to do so. 8 oz. for $16 and the Citrus Sorbet Bubble Bath, the fresh smell and fun packaging will definately catch your kids eyes and with a bubble bath that not only infuses the sences but moisturizing the skin... it doesn't hurt to play in the tub a little longer... 16 for $18
K
eeping your kids happy and prepared for anything is a great way to keep the day running smoothly and with these wonderful products, there is no way that can't happen.
-Phillip