W
ith Fall/Winter 2007 just around the corner, and endless numbers of layers soon to follow, I see this coming season as a haven for those of you desperate to be free of your large, drab and heavy tote, I see it this way... the more clothes, the less accessories necessary.... thus I present, this season's clutches, one for casual, black tie and cocktail.... which may be all you'll ever need...

Cocktail- I define Cocktail as club and party attire, thus your adorning clutch must be bold and stylish with a shiny finish to reflect the disco light and jealous stares.. I've chosen Gwen Stefani's L.A.M.B. Catania East/West Clutch in vivid red with gold hardware. Sure to be noticed by that sharp dressed man across the room. Available at Saks.com and Eluxury.com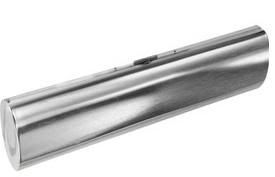 Black Tie- a time where your fashion statement must be conservative yet sensual , hard to pull off, yet when done properly extremely genius... for this I've chosen the Elongated Silver Clutch by Kotur : a beautiful sliver plated, snap button closure with vintage brocade lining for added elegance. the perfect addition to any gown of any length. Available at Vivre.com
Casual- For casual day and evening dress I say, stay classic and simple... in this case, dress up a pair of form fitting jeans and long sleeve shirt with the Louis Vuitton Limelight clutch. Perfect to fit your day needs, keys, cards, phone, gloss... Available at any nearby Vuitton boutique or call 1-866-VUITTON
All accessories featured were chosen for inspiration. Take the qualities of your favorite and adapt them to your budget and lifestyle.