What Color to go with those newly done highlights or that tan you've been working on for the last few weeks? White.. It's fresh, it's crisp and for spring/summer 2007- it should be the basic in which you build your wardrobe... but- your wardrobe aside. Summer accessories should as well... White.. Here are my top three choices of practical, recognizable and fashionable accessories.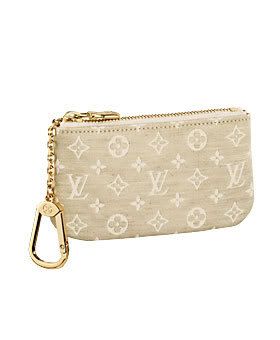 1. Louis Vuitton Pochette Cles in Mini Lin- Dune. I find the material to be incredibly durable and lightweight for summer, and the colorcombination is fantastic.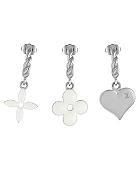 2. Louis Vuitton Sweet Monogram pastel earring set of three, in white and silver. I'm not sure exactly why they come in sets of three, but none the less I find them adorable. Great for a day lounging at the beach or pool and with enough whimsy to wear to an evening cocktail with a fabulous white cotton dress.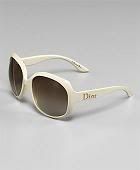 3. DIOR Glossy 1 Sunglasses in Beige, I fell in love with these sunglasses the moment I saw them come down the runway. Big with never be out of style when it comes to eye wear, and with the most recognizable frames available, who could argue. I hope these highlights point you in a well needed direction with your summer accessories..